Skip to Content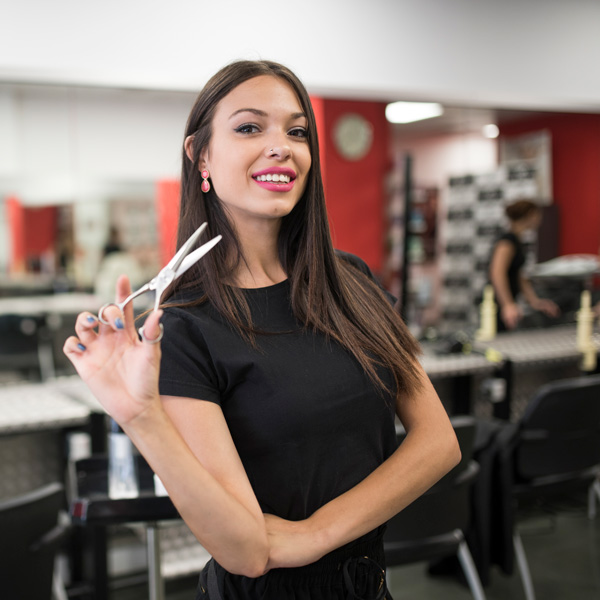 Class Registration
Day School is open Tuesday through Saturday. Evening classes are held Monday through Thursday nights. All students, regardless of which class they are in, must carry a minimum of 16 hours per week. A cosmetology or barber full-time day student may carry up to 37 hours per week. Freshman and Junior students have 7.5 hour days from 8:30 AM to 4:30 PM. After completion of 500 hours of training, the student is advanced to Senior status with a school day of 7.5 hours from 8:30 AM to 3 PM. Night school hours are 6 p.m. to 10 PM. Saturday hours are the same for both day and evening students, 8:30 AM to 4 PM. Normal completion time for full-time day students is 10 months. Upon licensure, the academy alumnus is fully licensed for entry as a hairstylist, cosmetologist, barber, massage therapist and/or salon owner-manager. A massage full-time day student may carry up to 30 hours per week. Their schedule would be from 9:30 AM to 4 PM. All night students at the Vero Beach location attend 5:30 PM to 9:30 PM. The other two campuses offer their night school from 6 PM to 10 PM.
Schedule of Classes
Class starts are as follows:
| | | |
| --- | --- | --- |
| Cosmetology & Barbering (day) | 1st Tuesday | ends in 40 weeks |
| Cosmetology & Barbering (night) | 1st Monday | ends in 52 weeks |
| Massage (day)* | | ends in 25 weeks |
| Massage (night)* | 1st Monday | ends in 34 weeks |
Graduation
A student is required to attain 1200 hours, the minimal service-based competencies as described in Rule 21F-22 of the Florida Cosmetology Law unless the prescribed minimal service-based competencies can be achieved and certified by the school in the time frame of 1000-1200 hours. The school may, at this option, choose to certify the student for state boards based on overall performance in school prior to completion of the school's minimum services requirement. A diploma is awarded upon the completion of the program. An Aids training certificate is required. The school will offer this training or students must produce their own valid up-to-date certificate. All financial obligations must be paid in full to the school before any final examinations may be administered.
All failing and incomplete tests must be made up with passing grades recorded in a student's file before finals may be started. All students must pass both theory and practical examinations in all subjects with a minimum passing grade in each individual subject of at least 75% as part of the certification process for this school BEFORE certification can be given for the student to take the State Board exams. For licensing standards within the state of Florida, all students must pass theory and written clinical portions of the Board of Cosmetology exams with a minimum passing grade of at least 75%.
Program Requirements
Students are required to complete minimum practical services in each area in order to be certified for state board exams. Minimum practical work under the direct supervision of instructors performed on mannequins, patrons or fellow students. It is extremely unusual for us to take action with any student because of poor grades. However, if grades do become a problem, the student can be put on probation for 30 days. Progress records are maintained by the school and furnished to the student upon request. Satisfactory progress for students receiving Pell Grants, or Direct Student loans is defined as a minimum of a 75% grade point average.
Have a Career in Less Than a Year!